The 6 Pack 1-27-23: I, for one, welcome our induction stove overlords ⚡️
Jan 27, 2023
---
What's up, beer geek! This is The Beer Scholar 6-Pack weekly newsletter, a short clean email featuring 6 bulleted links with brief descriptions for each.
---
Sup beer geeks. The email app I use to send this to y'all advises that my newsletter could easily be more successful. Analytics suggest that I should ... use shorter words, shorter sentences, and shorter paragraphs. Basically, that I should keep it to just 200 skimmable <8th grade level words. What say you, should I dumb the 6 Pack down? It would be easier for me to bang 'em out...hmmm.

Fun fact, the New York Times is written at a Flesch Reading Ease score of 60, which an average 10th grader can easily understand...and that's considered a very high level for public consumption (usually 4th-6th grade is apparently recommended by copy writers). We dumb af. Are you getting all of this?

Beer of the Week: I grabbed a Rainier out of the fridge during my Master Cicerone study group session this week. Once upon a time, Rainier Brewing Co was an actual Seattle brewery. Now it's a successful branding exercise and is brewed under contract somewhere outside of the Pacific Northwest. The brand is owned by Pabst Brewing Company, which is registered in Cyprus, Greece for US tax avoidance purposes. The Pabst company is itself owned by a private equity firm called TSG Consumer Partners and a super wealthy dude named Eugene Kashper. Mr. Kashper was born in the Soviet Union in 1969 and immigrated to the US when he was 6 years old. During his highly successful career in the international beer biz he used his language skills and Russian connects to basically go full US-Russian oligarch style in the beer space, hence the Cyprus, Greece registration (popular with ultra wealthy Russians). Pabst is Rainier is Olympia is Lone Star is Stroh's is Natty Bo is Not Your Father's is Old Style is Dragon's Milk is Jack Daniels Country Cocktails ... yeah they're all owned by those same people. It's a crazy world.
Keep your business and your money local whenever possible 🤷🏼‍♂️

Pic below: I ordered this holiday sweater from St. Bernardus in Belgium on August 12th, 2022. It arrived a couple days ago, just in time for me to make a great joke about it. Seems it was mailed on Dec 7th. What can you do, I'm truly not bothered about it and the sweater is dope, I look forward to wearing it next year if I'm still unfortunate enough to live in a cold dark place by then (which is looking less likely!). I posted this pic as an IG story and St. Bernardus replied with a pretty funny, "that's too long, anyway enjoy it and thanks." It made me lol :) I still lerve ya for your beer, St. Bernardus.

Kinda can't believe I'm doing this, but you should order your sweater today if you want it by Xmas. Also, go a size up if you're American, because as we all know over here, Europeans are tiny/fit people.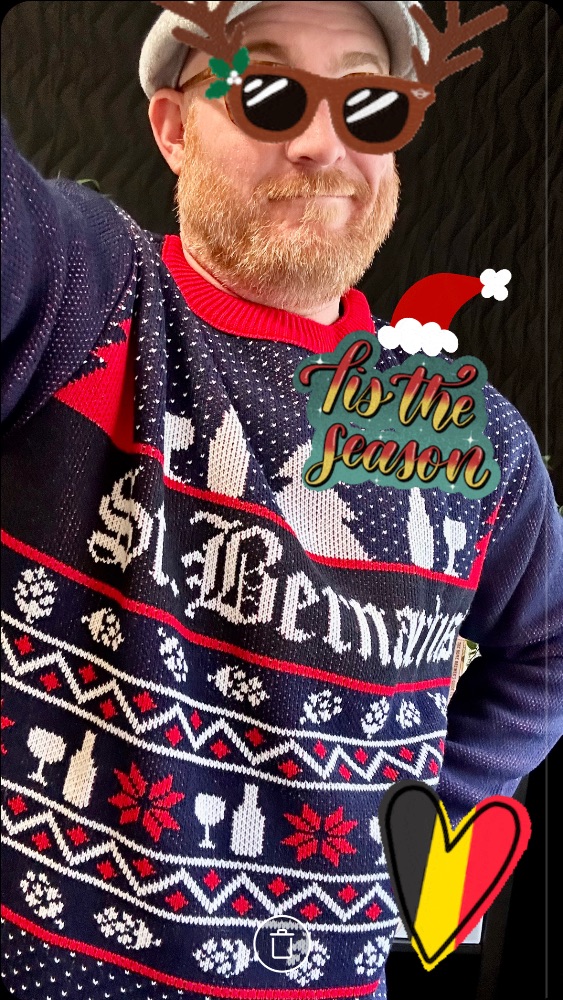 TBS 4-Pack (I already wrote enough this week!)
WHAT TO DO IF YOU CAN'T FIND BJCP LISTED CLASSIC EXAMPLES OF STYLES
What should you do if you can't find the BJCP listed "commercial examples" of classic beer styles? by me on the Beer Scholar website. I get asked this all the time.


ENROLL NOW - LIVE OFF FLAVOR TASTINGS
Live Cicerone Program Off-Flavor Training Classes. Expensive off flavor tastings are a must if you're prepping for the CC exam. The Cicerone Program just announced a few live ones that actually cost less than the kits! If you live near one of these cities, book a $55 off flavor tasting ASAP: Kansas City, Ft. Worth, St. Louis, Yakima, Boston, Cincinnati, and London UK.


THE WINE BIZ IS KINDA F$&KED
The American Wine Industry Has an Old People Problem by Eric Asimov for the NYT. Sorry for the paywalled link but hey it's the NYT so you probably can't understand the 10th grade writing anyway. Seriously though, this piece struck a chord. Wine is kinda f*ck3d and the reasons listed ring so so true. Their biggest growth consumer group is 70-80 year olds! Wine still plays in that world of opaque sources and marketing that muddies the whole business with inauthenticity and luxury good nonsense. They don't tell you what's in it or provide transparent labeling. Their main market is Boomers (love y'all). There is no good entry level product in wine that can provide young people with an A HA! moment that will pique their interest for life (not even those 80's wine coolers, ha!). Consider beer...authenticity, lack of snobbery, affordability even for the high end stuff...I know, I know, there is gatekeeping in every subculture, but as an industry beer is looking much healthier than wine. I continue not to be long term worried about seltzers and RTDs because...95% of the ones I've had just objectively taste like crap. Seltzers are already dying by the numbers. They just aren't good products. Neither are sub-$15 bottles of wine. Beer may have blown its top on the cool factor thing a few years ago and I'm not that dog that's about to burn up meme (this is OK), but I still like how things look in a relative sense versus the main competitors.

I FOR ONE WELCOME OUR INDUCTION OVERLORDS
The Electric Kitchen Has Always Been Inevitable by Ben Ikenson for Dwell. Holy sh1t, can you even believe we're having this moronic politically tinged tribalistic debate about whether replacing old clapped out gas stoves with induction when renovating or building new homes is a big conspiracy? Only in MAGA America. Simply put, gas is objectively dangerous, wasteful, unhealthy, and bad for the environment. Also, these jabronis have clearly never even used induction. They're so much better that I used portable induction cookers in my San Francisco apartment for most of a decade. Induction is fantastic. The only conspiracy here is that the natural gas industry is working with their Stans to get silly laws passed in Republican states about keeping induction out (20 so far, lol). Did you hear that the Wyoming legislature is considering a resolution to "phase out" sales of new electric vehicles in the state by 2035? Fear of change can take folks in some strange directions.

Peace out, y'all!
Chris