The 6 Pack 2-24-23: The answer is "yes"
Feb 24, 2023
---
What's up, beer geek! This is The Beer Scholar 6-Pack weekly newsletter, a short clean email featuring 6 bulleted links with brief descriptions for each.
---
Hey hey beer geeks. So much has happened since my last 6 Pack, I hardly know where to begin! Last weekend I went to Astoria, a cute little fishing town on the Oregon coast, for Fort George Brewing's Festival of Dark Arts. You see, here in Oregon, February is Stout Month. That is ostensibly the case because Feb is the darkest and rainiest month here and thus is dark-beer-appropriate (and oh so metal). Let's not get into whether it's also dark and rainy here for, like, most of the other months, too, because I'm trying to go at least one 6 Pack without mentioning that.

Festival of the Dark Arts was excellent! There were 60+ stouts on draft, loads of live music, and giant pieces of bacon on sticks (keep reading to find out why I didn't feel crappy the following morning!). Fort George is really one of my favorite Oregon breweries, everything I've had from them is top notch. Y'all...don't sleep on Fort George!

In the last 6 Pack I talked about the compound DHM, which supposedly helps mitigate the crappy day-after effects of drinking by helping your body process acetaldehyde. For those of you who haven't passed your Certified Cicerone exam yet, acetaldehyde is a common green apple-like off flavor in beer. It's also one of the compounds your liver breaks alcohol down to when processing it and it causes you to feel awful the next day. The problem with DHM is its "bio-availability." In other words, even if you take a bunch, your body won't absorb much. I've tried it and haven't seen much of an effect.

After reading my last 6 Pack about DHM, an old buddy of mine hit me back about something he tried recently. I tried it, too...several times now, in fact...and I can say without a doubt that it is amazingly effective! I've been so impressed that I hit the company up to get an affiliate link set up to offer you a discount on it!

ZBiotics are little 15ml bottles of liquid full of probiotics that have been genetically engineered to process acetaldehyde! They give your body a massive boost in acetaldehyde processing power! AND IT WORKS! You shoot the little bottle when you're heading out to drink and it lasts 18-24 hours in your gut, assisting your liver in the acetaldehyde processing task. I very much recommend trying this, it's a life saver.
---
Go here now - https://zbiotics.com/beerscholar - or use the code BEERSCHOLAR when you check out anytime, to get 10% off your ZBiotics order

---
Beer of the Week: Fort George Matryoshka (2023) with Mexican Vanilla Bean, Coconut & Lime Leaf. This is an extra special variant of a fantastic barrel aged stout that Ft George released at the Fest of Dark Arts last weekend. Often, I find that the "variants" are worse than the special base beer for releases like this, but in this case the lime leaf brought something special to this great BA imperial stout. They describe it as coconut macaroon plus key lime pie with brown sugar crumble crust. It's mighty fine.

Pics below: Me at the Fest of Dark Arts holding a piece of bacon that was so thick there's actually a stick through it...I think it weighted about half a pound..."pork belly" would be a more accurate description.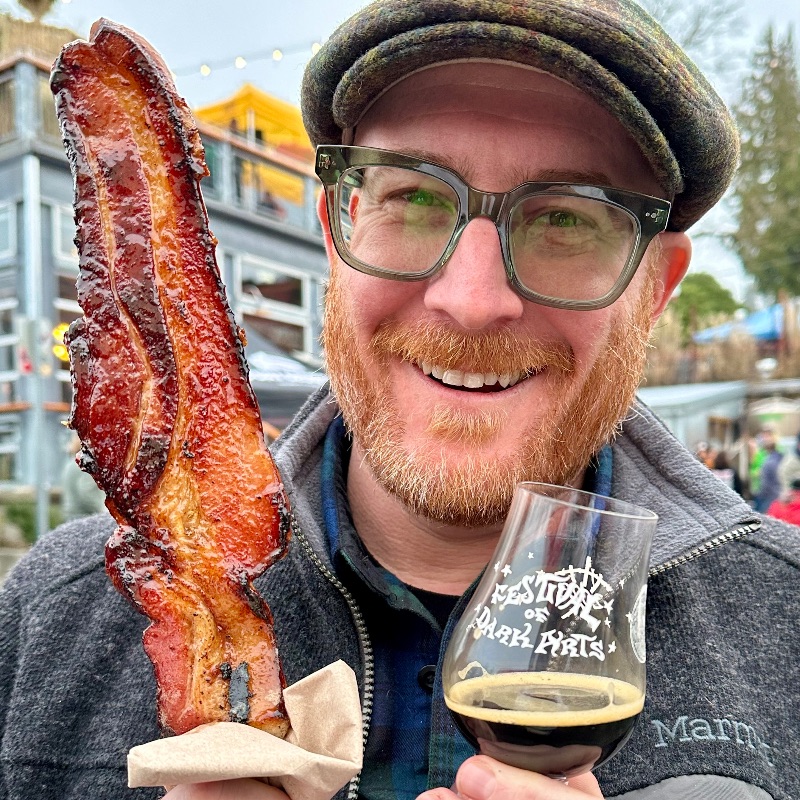 As always, here are 6 dope links for your Friday 6 Pack. Enjoy.
TBS 6-Pack
ZBIOTICS SAVES THE (NEXT) DAY!
I'm sticking this in two different spots in this newsletter because I really want you to give it a try. In the last 6 Pack I talked about DHM as a potential helper when it comes to feeling like trash after drinking, but I've since found a MUCH more effective solution -- ZBiotics. Please shoot me a note and let me if it works for you, too! My affiliate link will get you 10% off your order: https://zbiotics.com/beerscholar.


AN UPDATE ON THE GOONIES HOUSE (which I peeped while in Astoria!)
New owner of Astoria Goonies house wants to keep it open for movie fans by Allison Frost for OPB. The Goonies house sold recently, for $1.65M! The new owner lives in Kansas City and bought the house "as an investment." He wants to do something fun with it, which is cool. It is currently flying a pirate flag out front, ha! The former owner who sold it apparently hated all the attention after constantly finding people doing the truffle shuffle on her porch (and at least one person who just straight up broke in). If you don't know, check out this clip of 80s style Goonies bullying -- the truffle shuffle.


WHAT'S UP WITH DIFFERENT BEER POUR TYPES?
The flavor science behind your next draught beer by Master Cicerone Shane McNamara. This is all about how different pour types affect the flavor of your beer. MC Shane takes a look at the "slow pour" seen in the Czech Rep and Germany, the beer spatula scrape pour common in the Netherlands and Belgium, those extra foamy Czech pours, etc, and discusses the effects of each. The science of foam is wildly complex stuff, y'all!


PAPPY VAN WINKLE BOURBON HAS THE POWER TO CORRUPT!
The Director of the Oregon Liquor and Cannabis Commission Resigns Today by Janey Wong for Eater. OK, this is just hilarious and insane -- apparently a bunch of the top brass who control the distribution of booze in Oregon (we have crazy tight controls here, it's whack as h311) were helping themselves to the very limited bottles of Pappy Van Winkle and whatever other rare bottles they wanted. Usually, the state gets a case or two FOR THE WHOLE STATE OF OREGON and they do a drawing for them. That's democratic and cool, though it sucks for distributors who would usually use those bottles to reward their best accounts. These dummies blew up their whole careers for some rare bourbon! Wow, I've had all the different ages of Pappy and I can say it's not THAT good.


JOHN OLIVER DOES SHROOMS
Psychedelic Assisted Therapy: Last Week Tonight with John Oliver (HBO) -- I think this stuff is going to change the world, just like the hippies in the 60's did. As Oliver says here, it's REALLY important that we don't screw this up or allow corporations to do ridiculous things like patent these compounds found in nature and then charge so much for them that they're only available to the wealthy. Really good stuff, as always, from Last Week Tonight.


STONER SUPERHERO CARTOONS
Marvel's Moon Girl and Devil Dinosaur | Full Episode 1 on YouTube. I've been digging all the animated stuff Marvel has done...the Spiderman Multiverse stuff? C'mon, that was sick. The "What If..." series, sick. They're definitely doing amazing animated stuff. This is the latest and it's definitely a bit more for the youth but if I had a daughter in particular I'd hope she loved it.

Peace out, y'all! Have a great week!
Chris