The 6 Pack 3-10-23: Thanks for reading, y'all!
Mar 10, 2023
---
What's up, beer geek! This is The Beer Scholar 6-Pack weekly newsletter, a short clean email featuring 6 bulleted links with brief descriptions for each.
---
Wassup beer geeks. Thanks for being one of my 5,000+ readers!

I've got some navel gazing for ya. I just spent the last two days going through every 6 Pack I wrote over the previous ~14 months since launching the newsletter. I was turning them all into blog posts for a new and improved Beer Scholar website I'm launching soon. It was really cool to see how the 6 Pack has evolved.

The 6 Pack started out as just "hello beer geeks" and then a list of 6 dope links, mostly about beer, each with a sentence or two of description. It slowly morphed. The link descriptions got longer as I injected them with my editorializing and opinions. One week I stuck in a "beer of the week" section, another week some photos. That all stuck. Slowly, the bit at the top here where I talk about more interesting and personal things grew. Next thing I knew, I was more or less writing essays. And just like that, BOOM, the top part became longer than the 6 pack links!

I got SO MUCH great feedback from y'all after those longer, funnier, and more personal 6 Packs. I love that and I want thank you all for hanging out with me. The other thing that happened as the 6 Pack got bigger and took longer to create, however, is I started skipping weeks. I even wrote myself a to-do note that said, "come up with a simpler concept for the 6 Pack." I straight up forgot that I already had, 14 months prior! The 6 Pack was originally modeled on the Tim Ferris (the 4-Hour Workweek guy) and James Clear (the Atomic Habits guy) weekly newsletters, which are extremely barebones and tend be much more self promotional. But, the 6 Pack ended up being more like a Substack essay newsletter.

Soooooo, I need to find a happy medium here. Can any of you communicate with the dead while also jovial?🥁
---
Save yourself from having a rough day after partying. Go here now --

https://zbiotics.com/beerscholar

-- or use the code

BEERSCHOLAR

when you check out anytime, to get 10% off your ZBiotics order.
---
Beer of the Week: Great Notion Mandala hazy IPA. This is a 7% ABV tropical fruit bomb made with Strata, Nelson Sauvin, and Galaxy hops. It pairs great with Dungeons & Dragons, but only if you're a neutral good level 6 Dragonborn Battle Master merc with a soldiering background.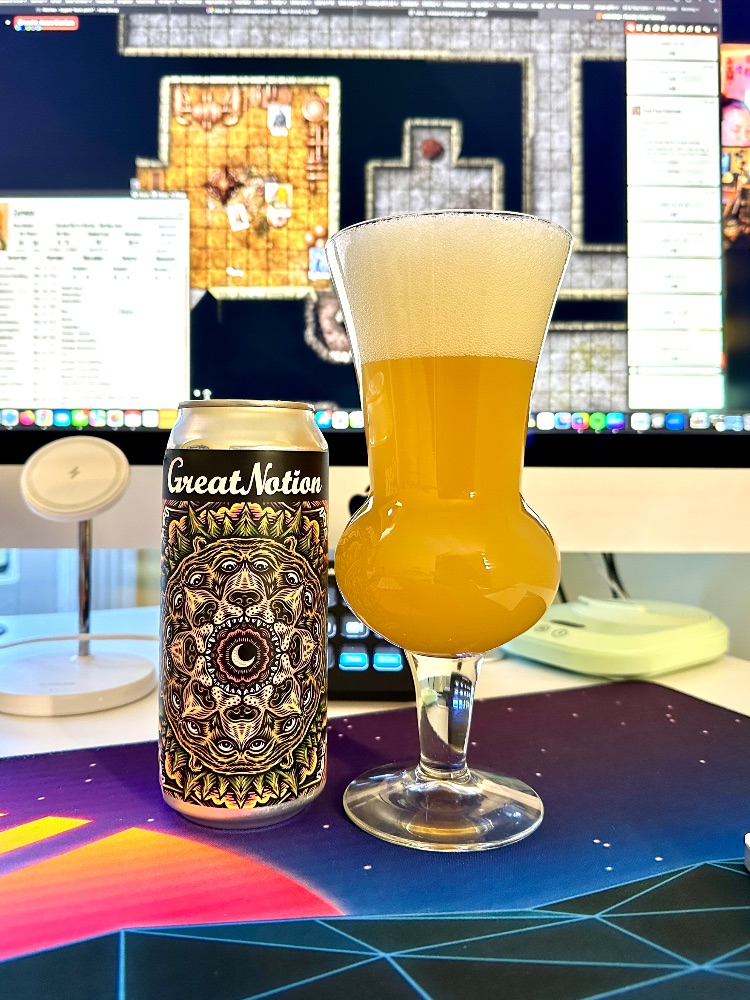 ---
TBS 1-Pack
You may recall that I promoted a product in my last 6 Pack called ZBiotics, the tiny 15ml bottles of liquid full of probiotics that have been genetically engineered to process acetaldehyde. You shoot the little bottle when you're heading out to drink and it lasts 18-24 hours in your gut, assisting your liver in the acetaldehyde processing task.

I totally got called out though, like instantly, by a very smart beer geek writer & fellow Advanced Cicerone who I really respect. He hit me with the one thing I'd also been questioning about ZBiotics. Essentially this:

---
The claim this breaks down acetaldehyde in the gut makes no sense, because that's not where acetaldehyde gets produced. After ethanol is absorbed into the bloodstream through the small intestine, it filters through the liver, where enzymes break it down to acetaldehyde ... how are these bacteria in the small intestine breaking down acetaldehyde ... ?
---

The answer is actually really interesting and basically confirmed that I didn't know as much about how alcohol is processed as I thought, ha! Essentially, it turns out that a not insignificant amount of alcohol is actually processed in your gut, by bacteria in the gut, before it has the opportunity to diffuse into the bloodstream and hence make its way to the liver at all. Ethanol that enters the bloodstream is processed by the liver, which does a very fine job of processing ethanol AND the resulting acetaldehyde into non-harmful stuff like acetate/vinegar. On the other hand, gut bacteria pretty much stops trying once it has oxidized the ethanol into acetaldehyde. Unlike ethanol, acetaldehyde is not readily absorbed into the bloodstream via passage through the colonic mucosa, therefore loads of acetaldehyde remain in your colon when you're drinking. That gut bacteria pathway is where the majority of acetaldehyde in your body comes from after drinking, with the resulting unhappy morning. Enough of that acetaldehyde created by the gut bacteria gets into the bloodstream, liver, and brain to cause trouble.

Straight up I think ZBiotics is amazing and I encourage you to try it. My affiliate link will get you 10% off your order: https://zbiotics.com/beerscholar. Shoot me a note and let me if it works for you, too!
I leave you with this gem:
URBAN SOUTH BREWING & JUVENILE TEAM UP!
Urban South Partners with Juvenile to Launch 'Juvie Juice' in Biz New Orleans. He11 yeah, I love this. Urban South is showing the way, other breweries should pay attention to this. Juvie Juice is basically an alcoholic Arnold Palmer (half lemonade & half iced tea), which sounds honestly pretty great and kinda hard to screw up. I like that it's only 5% ABV, too. "Juvie Juice came out so good that everyone is gonna want it in their life!" said Juvenile. "Urban South did their thing and it's extra special for me because the brewery is a few blocks from where I grew up on Market Street. It's gonna be a hot summer so get yourself a cold Juvie Juice — and drink responsibly, because too many Juvie Juices will have you moving in slow motion!" Lol, so great. So much hometown pride happening there. I never need another reason to get my a$$ to NOLA, but getting to potentially feature Juvie Juice as a 6 Pack "beer of the week" doesn't hurt.

Have a great weekend, y'all!
Chris